Ever wonder why more people aren't seeing your gorgeous posts? Or how to get new people to see them? You're not alone! In fact, 95% of social media users are keeping you company.
If you want to join the 5% who statistically get 79% more engagement with their posts, there's one simple thing you can do: attach a geographical tag (also known as a geo tag) to your post. A geo tag is such a simple thing to do. It will elevate your post in searches  and increase the visibility of your posts to people in your geographical area. When you include a geo tag, your post will automatically be curated into a hub for that area. Again – statistics show that posts with geo tags get 79% more engagement! Given that incredible number, it's crazy how few posts have them. As a brick and mortar store, the geo tag is your BFF.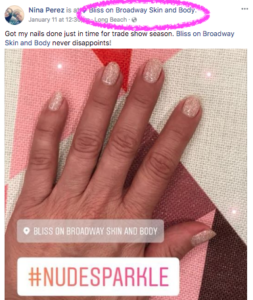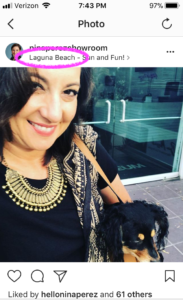 When you look at a post on Facebook or Instagram, just under the name of the account is where the geo tag will appear. When people search the towns, neighborhoods, or landmarks they visit, make sure they see you! 
Here's how to attach a geo tag to your posts. On Instagram, just as you see the option to "share", you'll see "Location" right below where you wrote the text of your post. Tap it! You'll see options appear which are usually based on your location at that moment. But let's say you're posting a photo of a place you visited a few days earlier. Instead of choosing one of the options presented to you, you can search for that place in the search bar at the top. When you add a geo tag, your post will automatically be organized into a hub for that location. To geo tag on Facebook, use the "Check In" option.  For safety's sake, NEVER geo tag your home address!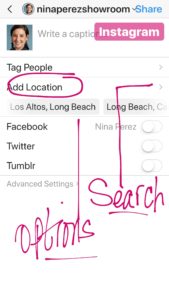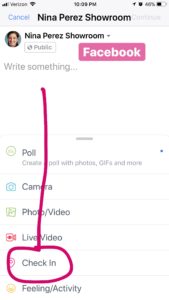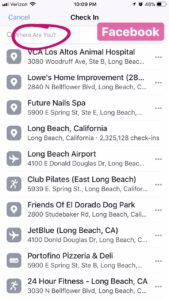 When you see the list of locations pop up you may see several that would work. How do you know which one to use? As a brick and mortar store, first search for your store name. If you have multiple locations and one SM account, tag the store location you're in or the one which you're promoting in that post. You can also geo tag your city or town or a popular landmark that people visit – especially if the content relates or refers to it. You can also indicate your location in Facebook stories and Instagram stories. The geo tag is located in stickers and is called "location."
Remember, it's all about creating organic engagement on social media. Geo tags are one of the many ways to help you do that. 
Go forth and geo tag!
If you're a boutique owner and would love more social media strategies and tips be sure to sign up for our emails and join Nina's Haute Hub on Facebook for even more training. Click the link to join! https://www.facebook.com/groups/329823670800655/