21 years ago, Cathy Holdorf (pictured above, right) and her sister, Dorothy Williams (pictured above, left), embarked on a retail journey with no previous experience and opened Sibling Revelry in Corvalis, Oregon. They knew nothing about the industry. Zero. Well, nothing about the business side of fashion, anyway. What they had, however, turned out to be a lot more valuable. Their readiness to acknowledge what they didn't know and the eagerness to ask for help. It's a critical lesson for a new business, but one that's also very useful for established ones.
Cathy was always interested in retail. She learned to sew at a young age and recalls,
"I could completely sew clothes by the time I was in middle school. I used to sew my friends' prom dresses and I even sewed for teachers."
She then went on to study at the Pacific Fashion Institute in San Francisco. From there, she traveled extensively for several years to far off places like Sierra Leone and Israel. She cultivated her love of fashion and fabrics while collecting and researching dyeing and weaving techniques wherever she went. Fun and bold, right? Just what it takes to launch into a retail business without previous experience!
Luckily for future Sibling Revelry customers, their boldness came with a finely-tuned ear for audiences and they quickly decided that their original idea for a houseware store was best replaced by a clothing store, which their city needed. Despite their fear that other stores wouldn't be happy to have more competition, they moved forward and talked with whoever they could to get advice, whether it was on where to buy clothes or fixtures, and they ended up finding some nice mentors who helped them get their bearings. It just goes to show that it never hurts to ask!
"We didn't have a clue," said Cathy as she recalled her first market trip where she and her sister showed up, without a storefront, and never having seen a linesheet. Admitting so at their first stop, they got an impromptu lesson on how to buy clothes and were able to manage through the rest of the market.
"It was fun, but it was very scary. I stayed up all night trying to figure out orders… I was so overwhelmed after you've seen [sic] a whole day's worth of stuff. How do you figure out your order. Like what color, sizes, which pieces. It just seemed so huge."
Seeking help didn't stop there. Cathy and Dorothy built their knowledge by going to local business classes, they got a lawyer who advised them on an exit strategy, and they invested in a retail consultant who gives, Cathy said, "An objective look at everything." The objectivity not only takes pressure off partners, but it also reveals what you didn't know that you need to know. Ya know?
For example, the consultants helped Sibling Revelry split the store into manageable departments. This made it easier to do things like
"…tracking the numbers within each department so that you know what's growing, what's shrinking, where to spend your money, and when to spend it. It's analyzing all the data we give them every month. You think you've got a handle on it before you see all that stuff," said Cathy, "but it's not intuitive."
The consultants can even compare how you're doing within your industry within your area!
"A POS system only gets you so much information," Cathy explained. "You just get a lot more information [with a consultant] than you get with a normal point of sales."
The consultant can compare you to others and give you trend information and help figure out profit margins.
What Cathy and Dorothy do know, they know well. While a lot of markets are set in their social media ways, Sibling Revelry knows that their customers don't spend their time on social media or the internet as much as others. 21 years ago, Cathy knew that their traditional media buys (newspaper, radio, etc) were sure-fire tactics. Nowadays, with so many media outlets, they have to be extra savvy with their customers, who prefer traditional vs social media. They send out emails judiciously about 8-10 times per year and utilize the FiveStars marketing and rewards system, which has been very popular with her customers.
"We have a  lot of customers that use it. Our main customers use it every week," Cathy said. "If you don't come in for a month, you get a notification and you get a special discount… That's what FiveStars really promotes. Keeping you top-of-mind awareness."
Initially, the system seemed expensive to them, but you can't argue with results!
All this is not to say that they don't use social media. They're on Instagram (@revelrysibling) and Facebook (@siblingrevelry) and they love their email list, but they know that most of their effort will be spent on the traditional. Traditional "plus", I should say because they also get a great return on NPR underwriting and they're in all the hotel TV ads and brochures.
"We're down the street from several hotels. That actually gets us a lot of business," Cathy said.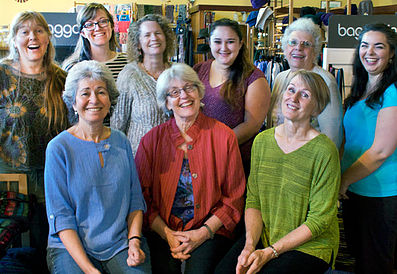 With two major universities near Corvalis, there is no shortage of events in the area and when there's an event coming up, Cathy knows to always boost her Facebook posts. Even for events that aren't of her doing. Case in point: the solar eclipse, which brought a multitude of people to town. Even without eclipse tourists, though, between the university students/staff and the tourists who pass through town on the way to the ocean, there usually isn't much of a lull in foot traffic, but when a big events such as an eclipse come right to your doorstep, you have to be ready to take advantage of the extra traffic.
Part of being prepared for events like the solar eclipse, the downtown wine walk, or one of their three big sales, is communication. Cathy and her sister hold weekly meetings in addition to periodic visits from their retail advisor, which they've had for 17 years. This is one of her biggest pieces of advice to any retailer—particularly the new ones.
"Get a retail advisor," urged Cathy, "Even if they only did it for a year. Just to see that process. You learn so much from that process. It gives you more confidence. It gives you direction and you're not scared all the time that you bought the wrong thing."
For example, they learned that you must turn over your merchandise and sell it so you can reinvest the money—even if it means a smaller profit margin or you lose on the item. Our business of sales requires a long view rather than a per-item basis. Selling a $70 item (that you bought at $35) for $50 might feel like a loss, but $50 is more than $0. You can take that $50, reinvest it by buying a new $50 item, sell that for $100, and then reinvest that in two $50-items that you sell at full price. That $15 margin from the sale item has now turned into profit. Sound confusing? It's another reason to look at your sales holistically rather than on a per-item basis.
"I don't think we ever would've learned on our own. It's the hardest thing to teach a new person and it's the most important thing."
The second big piece of advice from Cathy is along the lines of communication, but this time, communication with your vendors. She found it extremely helpful in times of difficulty—like just after 9/11 when all of retail was hurting—to be extra communicative and up front with her them. No one is eager to talk about financial issues, but the vendors have always been understanding and prefer a frank conversation rather than canceling orders or avoiding calls. By doing so, Cathy was able to maintain her relationships, everyone still won in the end, and eventually everything was back on track. It's amazing what time and great communication can do!
Finally, Cathy advises step-by-step growth.
"Don't think you have to be the most beautiful store right off. Just start with what you can afford and build from there. We see these stores that invest a lot of money at the start and they go out of business quickly."
When you take careful steps and set yourselves up for success with a consultant, you're in a strong position to handle sudden changes when events like the eclipse crowd comes up or there's a change in the economy. Learning along the way and purposely pacing themselves as they grew, Cathy and Dorothy have turned their store into a 21-year success story.
How to find Sibling Revelry:
145 NW 2nd St., Corvalis, Oregon
www.siblingrevelry.com
Facebook: @siblingrevelry
Instagram: @revelrysibling