Are you struggling to increase sales on your retail e-commerce website? You're not alone. Many brick and mortar retailers desire similar results online as they have in store, but are falling far short. One reason is insufficient traffic, as in visitors, to their websites. While that may seem obvious, the reality is they often do not know how much website traffic is needed in order to achieve their desired results. Not only that they don't know how to get said traffic and they don't know how much website traffic they're currently getting.  Does this sound familiar?
Fear not, we have several ways here that will help you increase website traffic fast. However, as you begin this journey it's important  that you track your progress every step of the way. Knowing your numbers (email open rates, conversion rates, etc) will aid you when making strategy decisions. Let's get started.
How much traffic do you need to achieve your goals?
To understand how much traffic you need you must first know your conversion rate and your average sale. A conversion rate is the number of transactions divided by the number of visitors x 100. Simply put, it's how many people purchase out of 100 visitors. Don't worry, you won't have to calculate this yourself but it is good to know how this number is calculated as it's the one you'll watch.
The average e-commerce conversion rate is currently 2.5%-3%. In comparison, the average conversion rate in a brick and mortar store is 20%-40%. This means for every 100 website visitors 2.5 -3 people purchase vs 20-40 people in a brick and mortar shop.  If you're thinking online sales ought to be the same as in store, they can be but you need way more traffic to your website than to your store to achieve the same revenue. 
Here's an example:
Let's say your average sale is $200 and your conversion rate is 3%. That means for every 100 web visitors you'll acquire $600 in sales (3 people who purchase $200 each). To achieve a $20k month you would need approximately 3400 visitors per month.
To achieve the same monthly revenue with the same average sale in a brick and mortar store you'd need 500 monthly visitors to your shop at a 20% conversion rate. 
You can find your site's conversation rate on your analytics page in Shopify or similar service. It should also tell you your average order amount. These are two of the metrics you want to grow. Be sure to check these analytics regularly.
Don't forget, getting traffic is just step one. Stay tuned for future posts on how to keep visitors engaged and make those much-needed sales. But for now, let's explore four tactics to drive traffic to your website.
Increase Website Traffic Organically
Email marketing 
Are you making th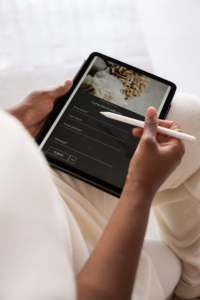 e most of your email campaigns? If you want to increase traffic to your website fast, it's a highly effective and often overlooked tactic that can bring in serious returns. In other words, it's your low hanging fruit. Despite many retailers having large email lists, they hesitate to send out enough emails. But here's a compelling example of its power: one of our clients earned $10k in just one month through an email marketing campaign, simply by sending 3 emails per week over the course of that month for a specific promotion.
Perhaps you're hesitant to send too many emails, worried about bugging your list or overwhelming them. But don't let these common myths hold you back – we've debunked them in a previous post that you can find here. The data proves that email generates more sales (and more traffic) than any other source, from social media to SEO. No wonder so many large retailers use it! And with our free resource, 15 Email Topics to Ensure a Loyal and Profitable Email List, to get you inspired and started, there's no better time to begin a new email marketing strategy.
Abandoned cart emails – if you haven't set these up on your site do so now! Abandoned cart emails will bring you return traffic. They have a higher open rate and the average conversion rate is 3%. 
Using social media to increase website traffic
In order to direct traffic from social to your website, connect your website to your social media channels. This will ensure that linking from posts and bios is effortless for users. Next, promote your website on social media by sharing shopable posts, directing people to your link in bio and using shop links in your stories often. You have to tell your audience what you want them to do next: Click Here, Shop Now. 
Don't shy away from asking your friends and family to share your posts as this is an effective way to amplify your message. And remember to share to your person social media accounts, too.
Finally, make use of live videos to communicate about your products and direct viewers to your website. Start by producing pre-recorded videos consistently, if you haven't already, to gain confidence and engage with your audience. Watch this video to learn tips about improving your confidence on camera. 
Start a blog or YouTube channel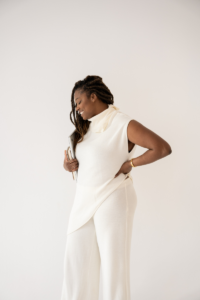 Ever think about having a blog? You can create blog posts out of the most frequently asked questions about style, life, owning a store, and more. You'll want to do some keyword research for terms and phrases people use to search out your type of shop or product or the topic you'll be writing about. You'll want key words or phrases that have a high search volume and moderate to low competition.
Keyword rich blog posts not only help you to rank in searches but adds value and helps to position you as an authority in your field. A new blog post is one more reason to email your list!
Not a writer? How about turning those topics into a YouTube video? YouTube is one of the largest search engines and there aren't enough retailers sharing their expertise. Why not you?
Increase Website Traffic with Paid Ads
Ads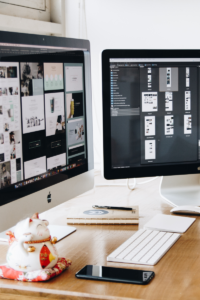 Running Facebook and Instagram ads is a great way for brick and mortar stores to increase traffic to their e-commerce website. Meta (formerly Facebook and includes Instagram) has become one of the most popular platforms for businesses to advertise their products and services. 
One of the benefits of running Meta ads is that it's highly targeted. Meta allows businesses to target their audience based on location, age, gender, interests, behaviors, and more. This means that brick and mortar stores can target people who live within their vicinity, increasing the chances of converting online traffic into in-store sales as well.
Another benefit of running Meta ads is that it's cost-effective. Brick and mortar stores can set a budget for their ads, ensuring they don't overspend on advertising while still being able to reach a significant number of people.
Keep in mind that running Facebook and Instagram ads is more complex than simply boosting a post. Consider hiring a professional to assist you with setting up and managing ads. Costs may include a monthly fee plus the ad spend, with daily budgets starting around $10. 
Increasing website traffic is an exciting and crucial part of running a successful online business. Whether you get fast results or not, it's essential to be patient with yourself and the process. Keep an open mind to new ideas and strategies and be willing to step out of your comfort zone and take action. Remember, consistent effort and perseverance will ultimately lead to success.
Don't forget to grab our free resource: 15 Email Topics to Ensure a Loyal and Profitable Email List. You'll be added to our email list so you won't miss the next blog post, marketing tips and more!